Presenting the draft revised law on behalf of the Prime Minister, Minister of Natural Resources and Environment Dang Quoc Khanh said for over 10 years of enforcement, the 2012 Law on Water Resources helped improve public awareness and action on the protection and exploitation of water resources, which have been managed and used in a more effective and sustainable manner.
However, some of its regulations overlap other laws, thus hampering implementation or causing wastefulness. There is also a lack of a legal framework for ensuring water security as well as detailed rules on water distribution and supervision of water resource exploitation.
Besides, the enforcement of relevant regulations in some places has not been strict enough. Financial mechanisms and tools for control and supervision have not proved effective while cooperation mechanisms for dealing with cross-border water issues are still incomprehensive, he pointed out.
Given this, the draft revised law is aimed at perfecting existing rules to create an all-around, consistent, and transparent legal corridor for the distribution of water resources. It also looks to guarantee national water security while preventing pollution, degradation and depletion of water sources.
The draft removes overlaps, clarifies responsibilities for managing water resources and exploitation facilities, and also facilitates the application of digital technology to water resources management, Khanh went on.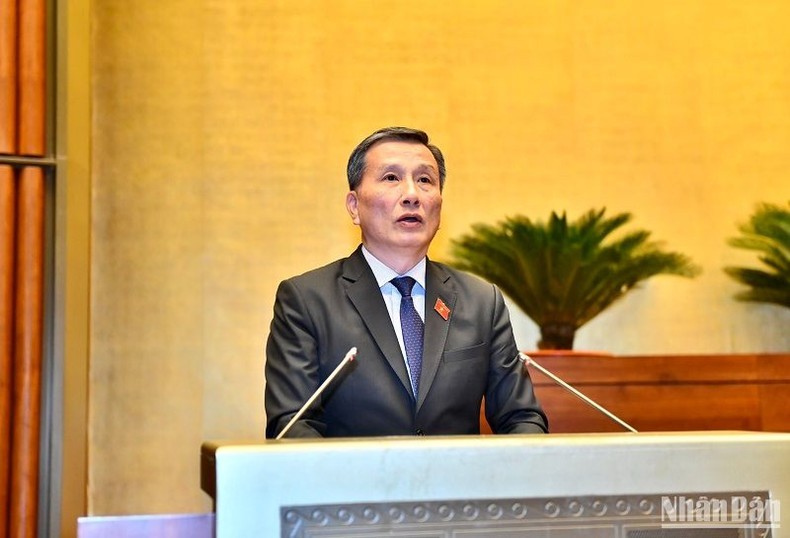 Chairman of the NA Committee for Science, Technology, and Environment Le Quang Huy delivers a verification report on the draft. (Photo: NDO)
Delivering a verification report on the draft, Chairman of the NA Committee for Science, Technology, and Environment Le Quang Huy said the committee basically agreed on the need to issue the amended law.
He noted the drafting body had consulted international law and experience in water resource management and also taken into account feedback from the parties concerned. The draft conforms with the Constitution, consistent with the legal system and international treaties of which Vietnam is a member.
The official asked for more detailed regulations on several issues, including management principles, mechanisms and conditions for the use of state budget to conduct water resources surveys, the responsibility for updating and sharing information about water resources, and coordination between the Ministry of Natural Resources and Environment and related ministries in the field.